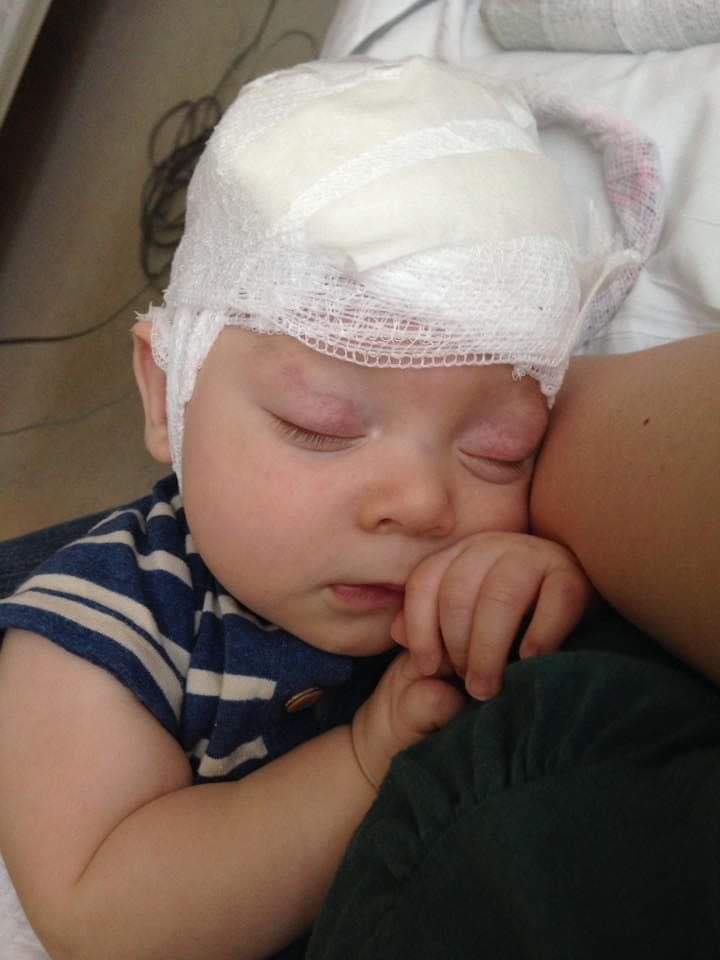 For Finn's 6th Birthday, please help him by making a donation to support children that are getting EEG's at Prisma Health Children's Hospital!
Your donation will help raise funds to send NillyNoggin EEG Caps to children getting EEG's at Prisma! Check out how the NillyNoggin helped Finn!
~ Warrior Finn's Journey from Finn's Warrior Mom ~
Warrior Finn was born just four weeks early but it was too early for him. His lungs weren't working and we quickly found ourselves out of options to save him. The doctors took one last option by putting Finn on a heart and lung bypass machine called ECMO. While on ECMO, Finn suffered multiple strokes.
We hoped and prayed he would be strong enough to fight. The chant heard round the world was "Fight, Finn, fight!" as friends from every continent joined us in our prayers. And fight he did! A miracle happened and Finn continues to be my brave, mighty boy.
We were blown away just weeks later that Finn had developed another life-threatening condition, hydrocephalus. A VP shunt was inserted when he was just five weeks old. The shunt has done its job and managed the abnormal accumulation of cerebrospinal fluid in Finn's head.
We didn't know what to expect when we took Finn home from the NICU after 63 days. His brain had sustained a lot of injury from the strokes and hydrocephalus. But as the months and then years steadily crawled ahead, we began to breathe again that we knew the days of our lives ahead and we could handle whatever came our way.
Finn loves to dance, watch Mickey Mouse, play outside, go for car rides and zoom his Hot Wheels. This dapper young man sports a bow tie and hat just about anywhere he goes even with his pajamas. Nothing makes him squeal louder than a new pair of red shoes or a Mickey lovey. Finn loves to sign about space, Halloween, Christmas, birthdays and his big sister.
Another diagnosis
When Finn was 4 years old, that peace was suddenly shattered as Finn was given an epilepsy diagnosis of Lennox-Gastaut Syndrome. The early brain injury led Finn to the door of a devastating form of epilepsy. Finn has fought hard to stay one step ahead but the seizures have caused delays and regressions especially in his speech and motor skills.
EEGs have become a frequent part of Finn's life. He struggles with all the wires and gauze stuck to his head. Another long EEG at the hospital is just in time for Finn's 6th birthday at the end of November. To Finn's delight, we discovered NillyNoggin EEG Caps and ordered a rocket one for him to give a whirl during his EEG. Neatly packed it in our Warrior bag with his new button down pajamas and slippers and ready to become part of his armor.
support Finn's mission to help children testing for seizures
In honor of Finn's birthday and all of the other epilepsy warriors out there, we would like to raise funds to cover NillyNoggin EEG Caps that will be donated to help children getting EEG's at Prisma Health Children's Hospital here in Columbia, SC, so that other children can have the comfort and style of their own cap during a trying time.
It's the little things that turn out to be the big things that get you through the times like this.
Will you join Finn and our family in celebrating his 6th birthday with a special gift for our hospital's warriors?
By making a donation, NillyNoggin EEG Caps will go directly to Prisma Health Children's Hospital for them to distribute NillyNoggin EEG Caps to patients in their hospital!
let's help children getting eeg's at prisma together!
Warrior Finn!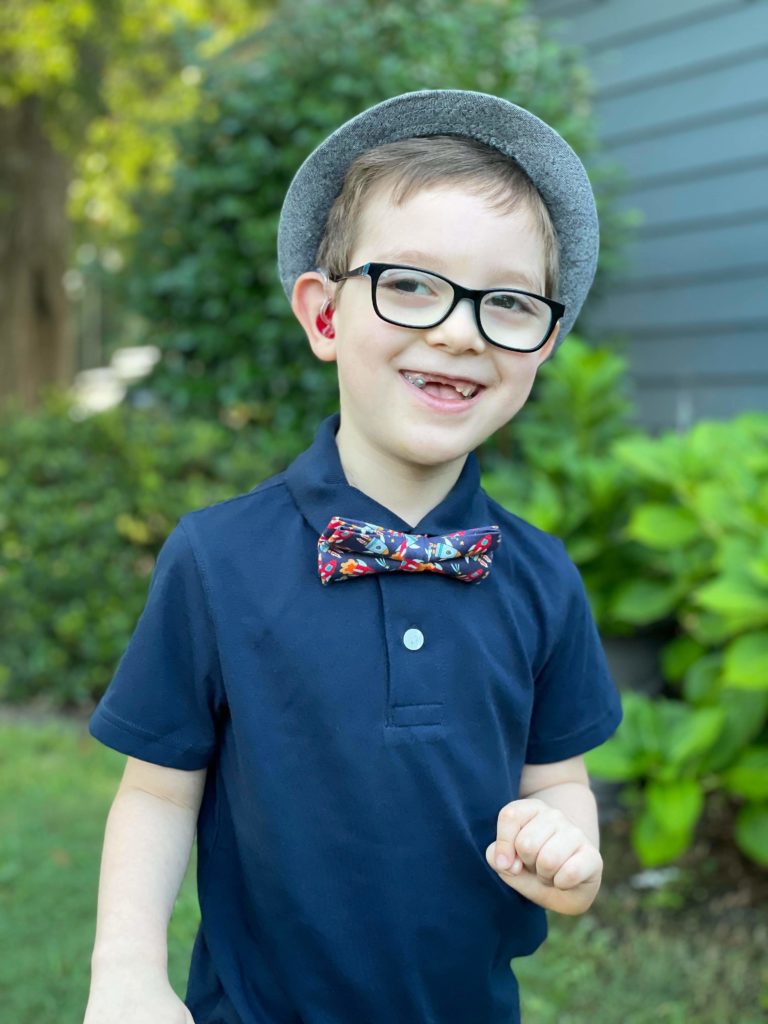 Finn's EEG Wearing his NillyNoggin EEG Cap!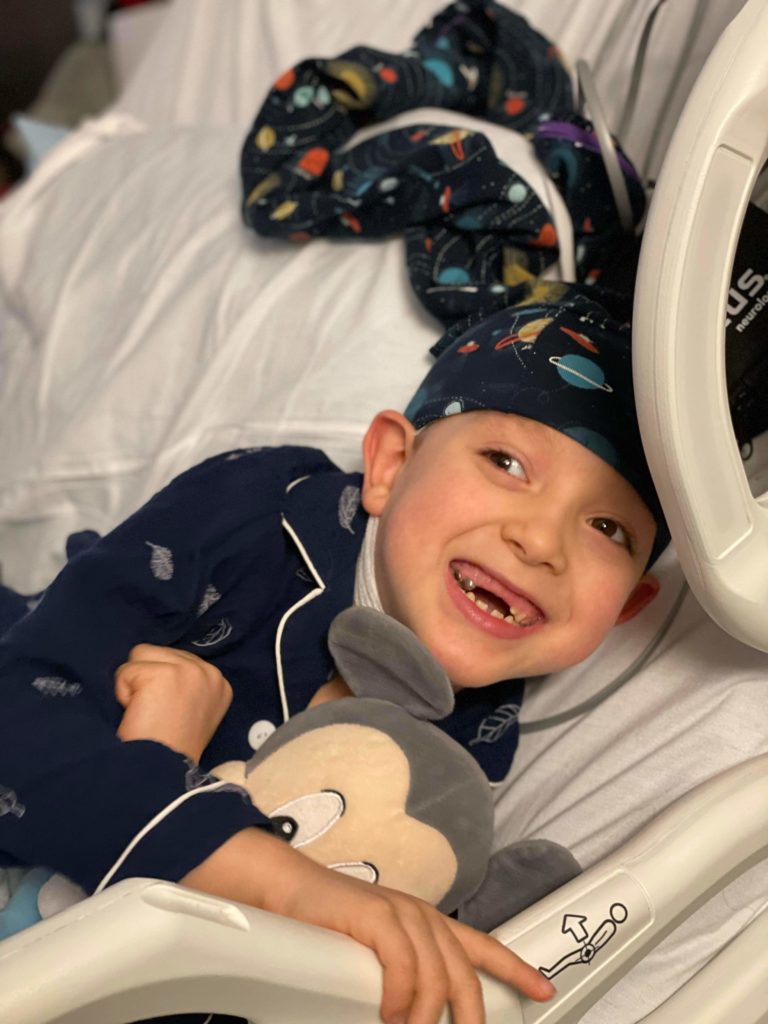 Why Are NillyNoggin EEG Caps so Impactful?
They help provide COMFORT, CONFIDENCE and a BIT of HAPPY during an often scary uncomfortable procedure.
Before and After
EEG without a NillyNoggin EEG Cap
EEG Wearing a NillyNoggin EEG Cap
LGS is a lifelong neurodevelopmental disorder and seizures are the main feature, are frequent, and are debilitating. Therapies may help. However, they do not completely stop seizures. Persons with LGS have varying degrees of intellectual disability and behavioral issues. Some struggle with aggression. Some meet autism spectrum disorder criteria.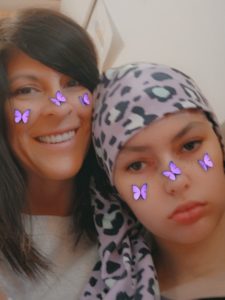 A Note from the Creator's of the NillyNoggin EEG Cap:
Epilepsy affects nearly 3.4 million people in the United States (470,000 children) and 65 million people worldwide.
We thank you from the bottom of our hearts for your contribution that will add happiness and confidence to the lives of Warriors battling epilepsy!
We live it ~ We get it!"
The Hannahtopia Foundation
The Hannahtopia Foundation is extremely passionate about donating NillyNoggin EEG Caps to help provide a sense of normalcy while going through testing whether in the hospital or during an Ambulatory procedure. An EEG can be worn home and the individual attends school, goes to work and functions in their everyday life. Without a NillyNoggin, this procedure can be quite embarrassing/intimidating.
Being stuck in the hospital is difficult. Having your head wrapped in white gauze and tape to cover over 20 electrodes glued to your head makes the experience even worse. NillyNoggins are colorful, comfortable and add confidence as they prompt conversation instead of stares! Help us get rid of the medically sterile look of the EEG and allow a child to choose their favorite NillyNoggin.
Choose to donate NillyNoggin EEG Caps to help the Foundation, Finn & his family spread smiles and hope to those living with Epilepsy!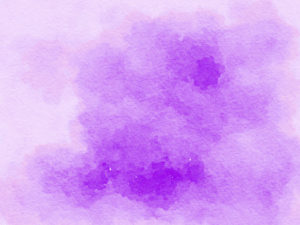 Thanks to Our Donors!
Jennifer Taylor-Porter
This is in honor of Finn.
Eileen Lankow
To help Warrior Finn's cause
Thank you for making a difference in the life of a child living with seizures
Particulars:
All NillyNoggin EEG Caps gifted to hospital EMU's are distributed as a Variety Pack assortment of patterns and colors and are mailed directly to the hospital.
When sponsoring this campaign, checkout may ask for your address, but the caps will ship directly to the hospital, not to you personally.