What's an EEG?
An EEG, or electroencephalogram, is a test that records the electrical signals of the brain. EEGs are done to diagnose and monitor seizure disorders.
What's a seizure?
A seizure is a brief, abnormal, excessive or robust discharge of electrical activity in the brain that alters movement, sensation, behaviors and awareness.
What is Epilepsy?
Epilepsy is a neurological condition of the brain where the main symptom is a seizure. Two or more unprovoked seizures is considered epilepsy.
Source: https://esnoc.org/
What's a NillyNoggin?
NillyNoggin EEG Caps are a special cap made for use with a medical procedure called an EEG test. The NillyNoggin EEG Cap is for all those with epilepsy and other conditions who get EEG tests as well as sleep studies. The cap is perfect for both ambulatory or prolonged EEG's. It is fun and comfy! It washes easily and can be used again and again!
An EEG test may cause a great deal of anxiety for the person having the test, as well as their parents or caretakers. The gauze and tape that is wrapped around the head to protect the EEG hardware can be visually terrifying.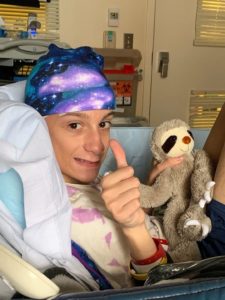 A NillyNoggin can help! It serves several purposes. It can minimize stress when a child realizes they get to select their very own fun colorful cap to cover up the 'scary' look of the leads. The cap can lessen the anxiety that parents have because the child is less stressed. The NillyNoggin EEG Cap also provides the EEG technician with ease of functionality – it helps them have quicker access to fix any malfunctioning leads.